Meet the Owner/Trainer/Groomer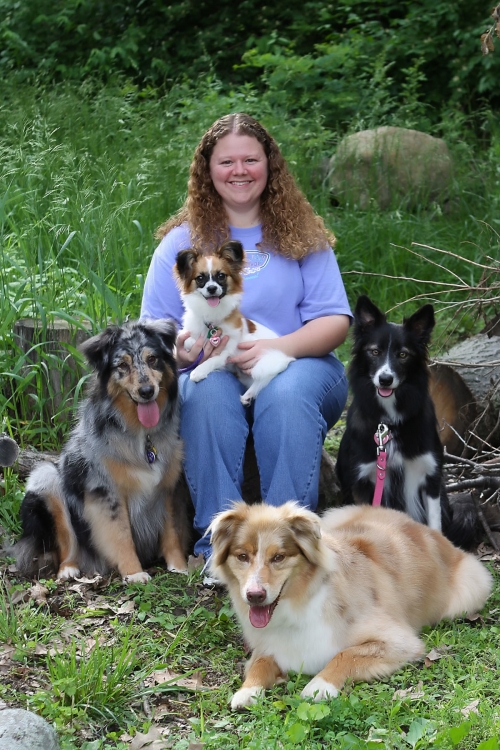 Kerri Griffin is an expert and experienced dog trainer. She loves animals and has always surrounded herself with a variety of dogs, cats, goats, horses, donkeys, chickens, turkeys, and more. Kerri worked as an assistant for a local veterinary hospital. Her seventeen years of experience there have given her a working knowledge of animals and their behavior.
Kerri was educated on obedience training from a knowledgeable, certified trainer with over forty years of experience. She opened County Line K9 in the spring of 2008 and has been successfully bringing people and dogs together.
Since January of 2011, Kerri graduated from grooming school and has been independently grooming all breeds of dogs in the County Line K9 facility.
Meet her dogs
TOBY is a 12 year old Red Merle Australian Shepherd. This handsome dog is a wonderful example of Kerri's handiwork. In 2006, Toby was an aggressive, fearful animal. His former owners were on the verge of euthanizing him. As a last effort, Kerri adopted him and began his rehabilitation. As one of her biggest successes, he is now an AKC Canine Good Citizen. Toby does his obedience routine very well. He likes to be challenged and takes his agility runs very seriously. He also does personal protection and tracking for search and rescue.
MYLA is a 8 year old Border Collie. She is also a certified AKC Canine Good Citizen, a Pet Partners Therapy Dog, and has just earned her first AKC Novice Obedience and Novice Rally Titles. She is a big asset to County Line K9. She helps prepare most of the dogs for group class. She takes her job seriously and does great job ignoring the dogs when they are excitable and trying to make them feel comfortable when they are nervous or shy.
MEIKA is a 6 year old Papillon and also know as "the class clown". She was adopted from the Kokomo Humane Society at 6 months of age. She is working on her obedience so she can start in the show ring too.
LOKKI is the Blue Merle Australian Shepherd in the picture. She has since passed away from complications from a form of cancer at 10 years old. She was always the demo dog that anyone could take out and run an agility course with. She was also a AKC Canine Good Citizen. She was always a bundle of energy and a fun dog to be around. She is terribly missed.
JENNY is not yet pictured. She is a 10 year old Humane Society Rescue that was severely miss treated previously and had to have lots of rehabilitation and love to live a normal life. She started out as a foster but decided she liked it here and wanted to stay. Being the most submissive dog of the pack she is great to help the dominant dogs in class mellow out a bit & prepare for group class. She has completed Basic Obedience and is happily enjoying life now.
HEIDI is not yet pictured. She is a 14 year old Dachshund that belonged to my grandmother who passed away in 2013. Heidi is now happily living up a life of retirement here with the pack.
TALYA is not yet pictured. She is a 1 year old pound puppy that was born here in the foster program and won my heart. She is a pitbull/boxer/bulldog mix and a bundle of energy. I am excited to add her to the pack!
WYATT is not yet pictured. He showed up here as a stray and decided to stay. He has obviously had a rough life before arriving here. He has many shot gun pellets under his skin from someone not wanting him around. He has been through basic obedience and enjoys keeping up with the daycare dogs all day long. I am excited to see what the future holds for this guy!
Meet the training assistants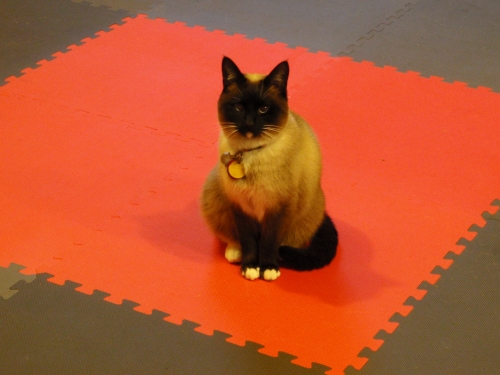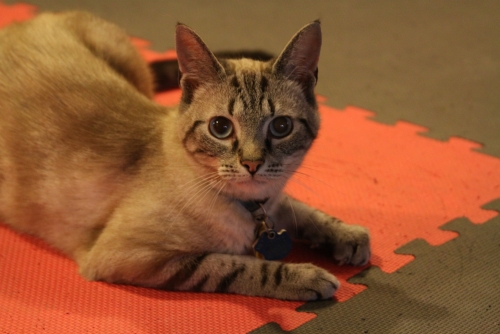 STRYKER and SNYPER are part of the County Line K9 family. These feline friends assist the business by way of distraction. While dogs learn obedience they need to learn to listen even when their instincts tell them otherwise. Stryker and Snyper happily taunt dogs by sitting in their path or boldly walking up to them and trying to entice them in a game of chase. These ornery cats go so far as to bat dogs with their paws trying to provoke them to break their stay. Not to worry, though, Stryker and Snyper attend Kerri's school of obedience too. Both cats come when they are called and Stryker knows how to 'sit', 'lay down', and is working on 'roll over'.